MACH 3 Dancing Pied Piper CDX RN MXP2 MJP2\
(Ch. Macdega Asterisk ROM ex Wistwin Shelet Iridescent)
Piper and his owner Shelly Threlkeld started when agility was still a very new sport, and learned together.
I was fortunate to be there where Piper earned his MACH 2, it was very exciting!
Piper's mom "Shimmer" was the foundation for almost all the Wistwin blues and blacks.



Rising Stars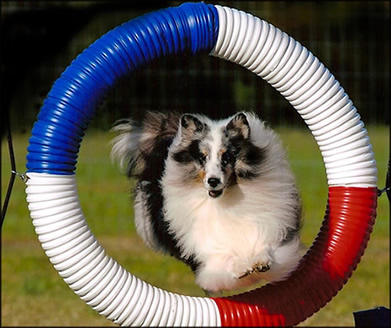 Ch Wistwin With Good Rhyson AX AXJ MJP2 NF
(Ch. Oakdale Honeyhill Headliner ex Wistwin Romantic)
Rhys is the first Wistwin dog with titles at both ends. He belongs to Alyssa Fenton, DVM.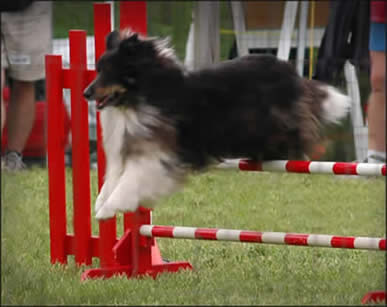 Wistwin Ezekiel MX MXJ AXP AJP OF NFP
(Wistwin Intrigue ex Wistwin Fashionably Late)
Zeke belongs to Sara Peterson, and he is working on his MACH.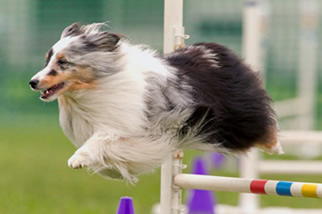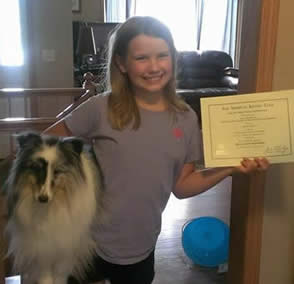 Wistwin's Vernal Equinox AX MXJ MJB OAP OF CL2-R CL2-H CL2-F CL3-S
TN-N TG-N WV-N HP-N OAC EJC TIAD TG3 SJ SS SR SPJ
Spring belongs to young Ashlynn and they are doing a wonderful job competing. They just finished his Open Preferred title.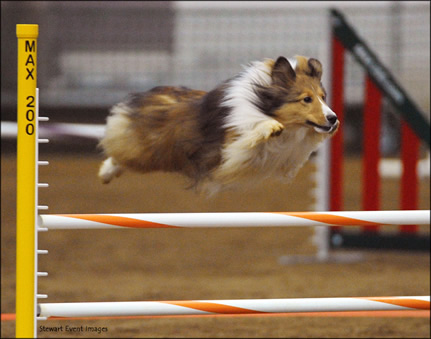 Wistwin Zing My Heartstrings CD RA PT MX MXJ MJB XF T2B
(GCh Dan Dee One From The Heart ROM ex Wistwin Antigua)
Zing is a little speed demon and is flying through his titles. He belongs to Shelly Threlkeld and Bill Watson,
and lives with Tango and the collies. He is also doing well at learning to herd sheep and ducks.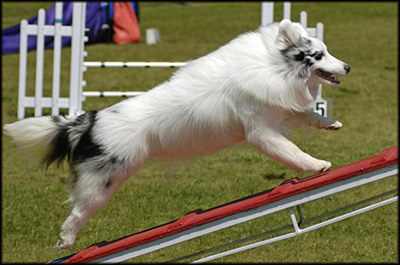 Stewart Event Photography
Wistwin Sandyhills Go 4 Broke OA OAJ OF RE CL3-F CLE-H CL3-5 SG
(Ch. Shadow Hills Double Eagle ex Wistwin Goodnight Sweetheart)
The lightning fast Bryce is owned by Sandra Hellberg. In addition to agility, he has assumed
responsibility as the official babysitter for Sandra's new (human) baby boy Jordan. In most
of the pictures of Jordan, there also is Bryce.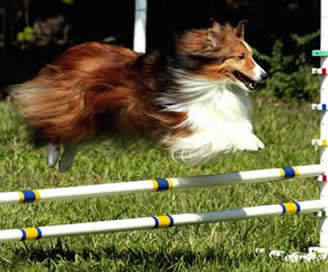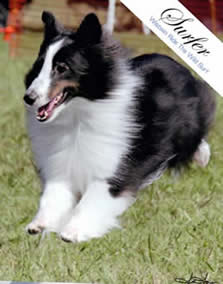 Wistwin Short Stack Sally OA, OAJ Wistwin Ride The Wild Surf CD AX
OAP AJP PD1 PJ1 PG1 PK1
(Am/Can Ch Wistwin Andante ex Wistwin Send A Dozen) (Wistwin Frosty Looks ex Wistwin Romantic)
Sally and Surfer are owned and shown by Jane and Don Lambert.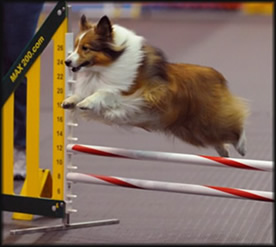 Wistwin Blossom NA OAJ
(Ch. Wilwinn Heart O'Gold ex Ch. Wistwin Sunday Best)
Blossom is Margaret Davis' first agility Sheltie, and they have had a lot of fun putting on the titles.



Certified Therapy Dogs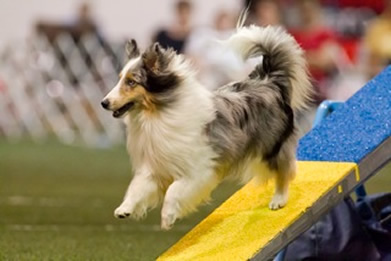 Wistwin's RumRunner Exhuberance NA OAJ
(Norwood Know How ex Wistwin The Starlet)
Bounce became Delta-certified in 2010.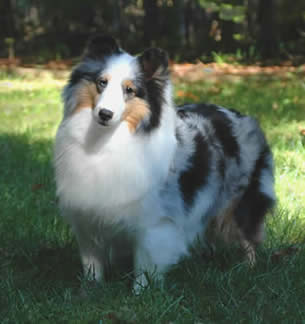 Ch Wistwin Ireland's Blue Willow
(Ch Sea Haven Sharper Image ex Wistwin Alize')
China, in addition to being a champion and the dam of 2 champions,
is also TDI certified ( Therapy Dogs International.)

Therapy Dogs / Rainbow Bridge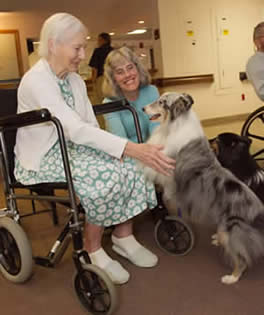 Wistwin Hot Ice
(Ch. Macdega Candray Cartel ex Wistwin Shelet Iridescent)
Our darling Icy passed away in 2010. Icy was Delta certified, and she enjoyed the nursing home visits.
Grandmother to 2 champions, in her retirement years Icy was owned and trained by Moreen Jacobsen.



Herding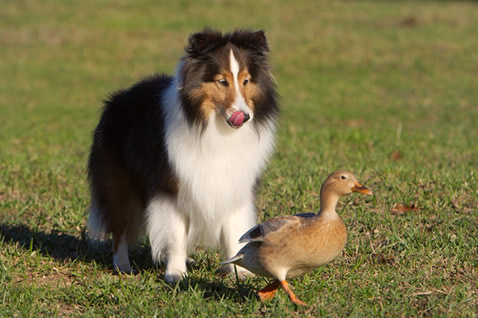 photo by Diane Lewis
HC MACH 2 BraeCarel Shepherd's Heart UD RAE AXP AJP
(sired by Am/Can.Ch. Wistwin Andante ex Brae Carel's Dinah Lee)
born Christmas Day 2001
Shep was bred by Becky Elliott and is owned by Nancy and Roger Akers, but we feel he is part of the
Wistwin family since he is an Andy son. In only three years, Shep became the 31st Sheltie to earn his
Herding Championship in June 2011. In his herding career he has had 6 HIT (2 in advanced classes), 1 Reserve HIT, 17 firsts, and 7 2nds. Shep is also working on a PAX in agility.
Shep is a certified Therapy Dog as well.
At the 2009 ASSA National, Shep won the MOST VERSATILE SHELTIE award, with his
performances in agility, herding and obedience.